Christmas cleaning tips that will make prepping for the holidays less hassle.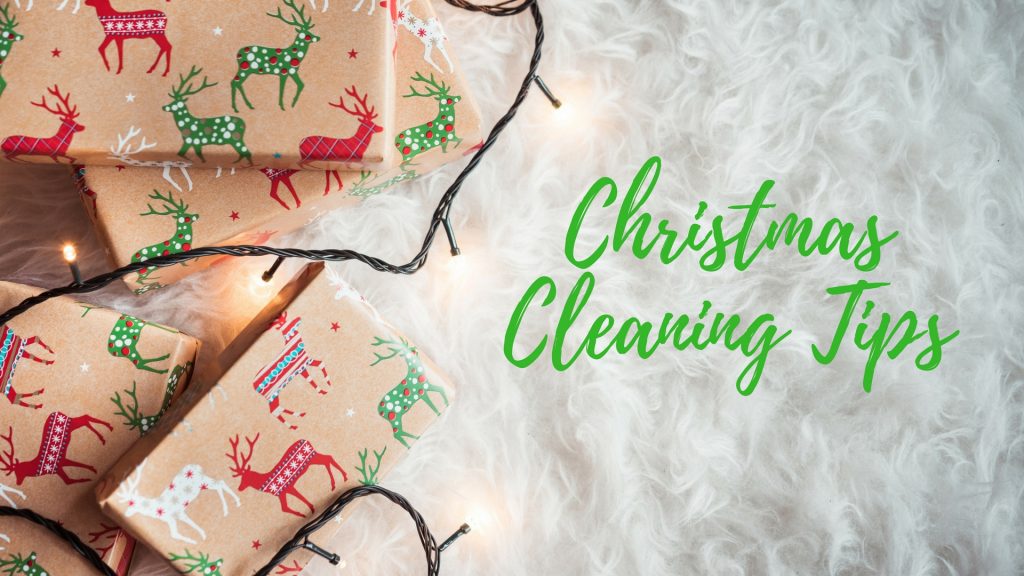 Ho! Ho! Ho! It's that time of the year when you're looking at the best gifts for your family, perfect decorations and ways to have a lovely stress-free holiday. Whether you like it or not, Christmas cleaning will have to be added to your holiday to-do list.
Even if you are not expecting guests during the holiday period, it is always a good idea to prepare for the unexpected. You do not want to be caught off-handed when friends or family members turn up with very short notice.
Plan ahead which areas of your home you will be cleaning first. The earlier the better. If you divide the tasks into different areas and enlist the help of your family members, it will ease the load for you.  Our Christmas cleaning tips are pretty simple and straightforward which will surely make the holiday prep less a hassle.
Clean out the fridge, freezer, and pantry to make room for the Christmas food.
Our fridge is one of our most hardworking appliances. We need to put extra attention because this is where we keep our food.
Aside from giving more space to your Christmas food, you can also get rid of food that might be nearing its shelf life. A clean fridge will also keep your food tasting and smell fresher.
Stock up your cleaning essentials before the holidays are in full swing.
Instead of making multiple trips to the grocery, make a list first of all your cleaning essentials and buy them at one go. You are not only saving money on gas but saving yourself precious time as well.
Clean your oven, ready for the perfect Christmas roast.
Your cakes and pies tastes better when they're baked in a clean oven. Skip the scrubbing and give your oven a quick steam bath. Fill a casserole dish with water and half a cup of vinegar. Heat the oven to 180, let the water boil for 30 minutes, then let it cool down. Grab a paper towel and wipe the grease away.
Do all of your washing before guests arrive so you don't have to do it whilst they're there.
Allocate time to do your washing weeks before the holidays and prevent cleaning like a mad woman while your guests are knocking on your door. You don't want to do the washing while everyone is having fun partying.
Distribute tissue boxes and rubbish bins in communal areas.
Keep friends from rummaging through your cupboards by leaving extra toilet paper in sight. A pretty basket is a great place to stash a few rolls. Also, make sure empty rubbish bins are placed and accessible in all communal spaces.
Polish your cutlery.
Clean any special cutlery or dishes that may have collected dust since last Christmas. Make your cutlery shine with baking soda and salt bath.
Make sure tablecloths are clean.
If the tablecloth is stain-free and only needs to be washed, follow the care instructions and use your washing machine for maintenance cleaning. Set the machine to warm, place the tablecloth in when the tank is half full. Household detergents can sometimes cause problems and a good warm water wash will usually do the trick.
Vacuum and mop all rooms.
Grab your mop and vacuum and start cleaning the house particularly the main living areas such as the kitchen, lounge room, and dining room. Don't forget to clean under furniture as things generally get moved to make more room.
Let your bathroom shine.
Clean the guest bathroom by wiping down the basin, shower, and toilet. Ensure there is plenty of toilet paper and clean towels.
Make sure to book professional cleaning in early!
The holidays can be a very season for our cleaning professionals so make sure to schedule ahead!
Christmas is best spent with the family, following these Christmas cleaning tips will not only lessen the stress that comes along with the holidays but will allow you to reclaim your most valuable asset – your time and spend it with those who deserve it best, your family.
We at Lifestyle Cleaning Services want to help and make things a little easier for you. You can avoid the rush by calling us as early as now to schedule your carpet cleaning, window washing or whole house clean to prepare for the coming season.
Cheers to a stress-free Christmas!
Contact Lifestyle Cleaning Services on 02 49664223 and get a free customised quote. Let us look after the cleaning so you can live the lifestyle you deserve. We are booking up fast so don't miss out